Calculate your Import Landed Cost
Landed Cost
Sourcing goods from another country may not always be the least expensive option when all costs are factored into the equation. In addition to the price of the goods, you must factor in transportation costs, insurance charges, and customs duties, taxes and fees on the goods.
A good Landed Cost Calculator can help you determine an accurate estimate of the landed cost of your products by calculating the various import duties, taxes, and other government fees that will be added to your goods before they arrive at their destination.
Landed cost analysis provides only a partial view of the business impact of sourcing from low cost countries.
Managing your Landed Cost
Cost of Goods
Origin Transport Charges
Origin Export Charges
Cargo Insurance
Ocean or Air freight
Freight Forwarder Fees
Airport/Terminal, Pier or Warehouse Charges
Storage Charges (if applicable)
Customs Exam Charges (if applicable)
Customs Brokerage Fees
Customs Bond fee
Customs Duties, Taxes and Fees
Domestic Trucking from Pier/Airport to final destination
JFK New York Customs Broker Fees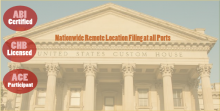 A New Era in
Customs Brokerage
Remote Electronic Filing
A Paperless Environment
Customs Clearance
for the 21st Century
Online Insta-Rate Quote FreightNCargo.com